A detective game demo in which you play as a teenager named Sharifa, whose quest is to shed light on the mystery surrounding her sister's death. During the experience, you will learn about HIV, sexuality, and come to terms with your family by interacting with in-game characters.
UNAIDS, HIVOS and NAYA commissioned us to build an informative narration game prototype on HIV prevention and treatment among young women in Nairobi, Kenya. To create a sensible proposition we worked in close collaboration with local activists. As it is a complex subject our first objective was to not misrepresent the population and the matter in an insensitive way. It was also an ethnographic challenge to understand the culture and the local struggle that young women face daily.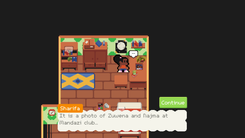 Find clues and items to progress.
The game was built with Godot and designed to run on low-end devices like smartphones. The demo focus on the inside of the family house.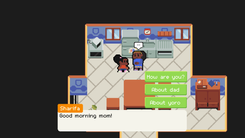 Interact with characters to get more pieces of information, your choices influence different outcomes.